It's hard to believe but some men don't want or even enjoy getting blowjobs. Of course, most men can't get enough oral sex and are always eager for more. Women have similar mixed feelings about giving head. Some love it and give amazing blowjobs, many will do it like an actual job when they "have to" and some don't go anywhere near a dick with their lips. Unfortunately in too many relationships, both men and women are having blowjob fantasies and desires that are not being satisfied. For whatever reasons you're not giving or receiving oral sex, you'll end up playing mind games where you both lose. So, let's explore some oral sex fantasies and erotic role-play scenarios to inspire your lust for licking and sucking
.
The following blowjob ideas are intended for both his and her pleasure. I hope you have fun discussing, adapting and playing with these oral sex ideas together. Keep an open mind about ideas that may seem a little too kinky to avoid squashing any fantasies your lover may have. Be sure to mix in your own fantasies and desires and hopefully you'll discover the sensual and emotional ingredients you both need to enjoy the perfect blowjob. For an excellent guide on how to give a great blow job, see Jack's BJ Lessons.
Head Starts
Essentially any blowjob is better than no blowjob. Sensual oral penis pleasuring is a great part of foreplay to get ready for intercourse. Amazing blowjobs continue right to climax. Diet and hygiene are important factors contributing to smell and taste which may be an issue for some. Try eating pineapple or kiwi before hand and definitely avoid asparagus. Trimming pubic hair may also be something to consider. Now for some basic blowjob ideas:
Deep throating is not always desired and can be an impressive feat for some. Women do like the challenge and guys appreciate the effort. Usually just a few attempts to get it all in works wonders.
Swallowing is something both men and women fantasize about. Taste and quantity of semen can influence the enjoyment factor.
Gagging while deep throating is a sign you're pushing the limits. The ability to suppress your gag reflex is a skill that can be learned with practice and most good men value the effort involved. Also, women wearing mascara tend to show their hard work. Taking a huge dick in your mouth and down your throat can make your eyes water leaving black streaks – a look that some people appreciate and find erotic.
Have some fun with different taste sensations by dribbling on some chocolate sauce or sweet liquor. Get a little nasty and erotically lick off drips of yogurt as a prelude to what you're going to be doing later. Turn him into a delicious treat by topping him off with some whipped cream before devouring him.
Try out Different Oral Sex Positions to experiment with comfort and various other feelings (emotional and sensual) that come with them. Kneeling while he stands feels different than laying down together. You can also creatively use furniture to adjust your positions for more variety.
Head Games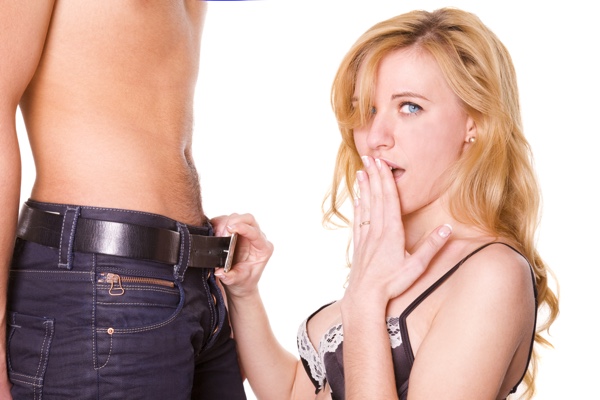 Both men and women have various hang-ups and anxieties about blowjobs. It may be considered demeaning and wrong by some while others view it as sensual and empowering. There are lots of different emotions at play that can ruin the intimate experience or make it the best, most memorable blow job ever. Sharing how you both think about oral sex allows you to explore different perspectives and come at it with an attitude of mutual arousal. When it comes to giving or getting head, play some head games so you both win.
Use lots of moaning, dirty talk and other sounds to indicate you're enjoying it.
Guys love watching your lips wrap around their dick and seeing your expression as you lick and suck on it. Making eye contact and showing enthusiasm also makes it more enjoyable. Women want to see how much pleasure they're providing as well. That means avoid doing it in complete darkness. Candlelight at night sets the mood and lets you see the good stuff.
Men are visual creatures and can become more turned on with how sexy you look while performing a blowjob. Consider applying fresh lipstick before going down on him. You might also keep all or some clothing on especially sexy lingerie. For an extra special treat, give him a blowjob while dolled up in elegant evening wear and high heels. The sight of a prim and proper lady sucking cock makes it feel even hotter.
Women can also be turned on by what the guy is wearing. Skip the sweat pants and try on a full business suit or uniform to receive your blowjob. Dressing up like a cowboy, construction worker, fireman, cop or military man may also turn her on.
Add a bit of mystery by having him wear a blindfold or her wearing a mask and maybe even a wig.
Giving a blowjob can make a woman feel empowered especially if she's confident in her oral skills. She can take total control of his pleasure and orgasm. Guys can also embrace a more passive role and allow her to make him weak in the knees. Even when a woman takes on a submissive role during oral sex play, the sense of power over his pleasure can be exciting.
Believing that good girls just don't do that but doing it anyway is always fun. Enjoy the erotic thrill of being bad. Doing something dirty, nasty and forbidden can make sex feel more intense.
Lustful Licking Locations
Keeping sex for just the bedroom is a shame. Getting frisky in different locations can be exciting for a variety of reasons. The newness factor combined with an increased risk of being seen makes it so much hotter. Blowjobs provide a quick and dirty way to get it on in different hot spots when intercourse isn't as practical. Depending on possible interruptions, be prepared to repackage his equipment before finishing the job at hand. It's also easier to hide her bobbing head from prying eyes using a small blanket.
A blowjob in a natural setting like in a field, a forest, on a river bank, on a beach, on a mountain trail or under a waterfall is always nice. You can enjoy all natural blowjobs almost any time of year even while it's raining or snowing. Try going on a camping trip and enjoy a blowjob under the stars, a full moon, next to a warm glowing fire or in the tent during a thunder storm. How about getting a blowjob while up in a tree or on top of a large hill overlooking the landscape during a beautiful sunset.
At a fancy restaurant or banquet hall, surreptitiously slip under the table to give him a quickie blow job. Ensure you're adequately hidden by the tablecloth and wait until after you've ordered to give at least 10 minutes for your appetizer.
Take a ride into the country to find a secluded spot to watch the sunset. Then, after it gets a little darker, head to the back seat for some oral pleasuring. Or, unless you have one, rent or borrow a van or SUV with dark tinted windows so you can go parking for a blow job almost anywhere.
Add to the forbidden factor by having oral sex in a cemetery or church. Lookout towers, bridges, tunnels and other landmarks are possible make out locations for a quickie blow job.
There are lots of different laws in different states and countries that you need to be aware of before having any kind of sex out of your home, apartment or hotel. You also need to beware of all the security surveillance cameras. It may be safer to role-play being in different locations using decorations, various props and even CDs with soundtracks for various scenic destinations.
Delightful Dick Distractions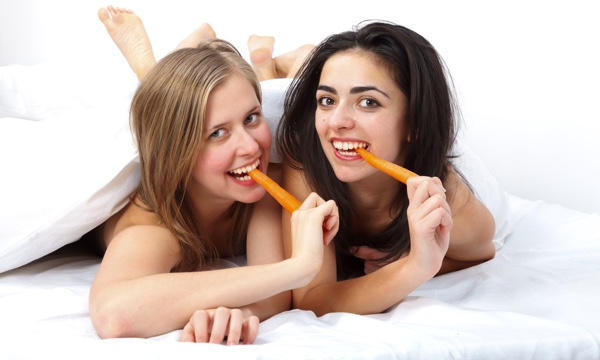 Everyone loves the feeling that their lover finds them sexually desirable and irresistible. Making someone have an orgasm while they're supposed to be focused on something else can give you both a naughty feeling of pride. Distractions can also make the intimate fun last longer.
Depending on the type of vehicle you drive, road head is not as easy to enjoy as it used to be and is still very risky. It does make a long trip more fun and can fulfill some exhibitionist desires with people in passing cars and trucks getting a good view. A blowjob in the back of a limo, taxi or car driven by a good friend might be a workable substitute. Or, have him play a racing simulation video game while you're giving him a blowjob. Make sure he has something at stake so he tries to win the race. If he climaxes out of the race, you win something good too.
While he's watching a big game or other sports event, serve him a beer and a blowjob and see who wins.
Start giving him head while he's on the phone as long as the conversation isn't too important. Regular work conference calls or chats with friends and family are all fair game.
A simultaneous climax while enjoying mutual oral pleasuring in a 69 position tends to happen only in the movies but is a sexual fantasy worth trying every now and again. Having to focus on each other's pleasure while trying to reach orgasm can make it last longer.
A common fantasy for guys is to have sex with two women at the same time. Watching two women load sharing with his dick is more than double the fun. But he can enjoy so many other sensual activities while one or the other is orally pleasuring him. Just imagine all the erotic positions, oral pleasuring and sex toy play that can happen when the one dick is in one mouth.
Nothing is more distracting than having something slipped into your butt during a blow job. But, this type of distraction may trigger an explosively powerful orgasm very quickly. Just pressing the region behind the balls next to the anus during orgasm can intensity the sensation. A lubed finger, butt plug or prostate massager inserted as part of your sex play adds to the kinky fun.
Female Fellatio Fantasies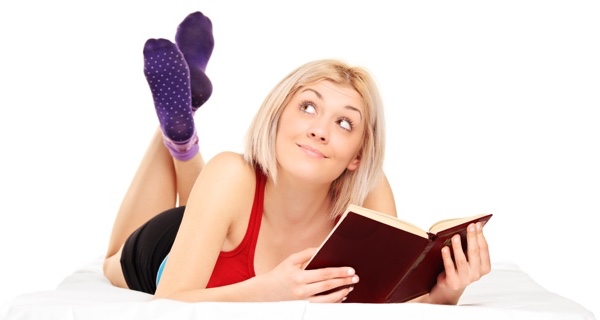 The erotic mind is a complex thing that forms and evolves based on our experiences combined with our physical brain make up. How we develop erotic fantasies that turn us on while other sexual thoughts do absolutely nothing or even turn us off is still only partially understood. Even gender and associated body chemistry does not fully control the types of sexual thoughts we have or enjoy. If you read the real sexual fantasies of women and men
collected in the books by Nancy Friday, you'll see a wide range of dirty thoughts about all kinds of things. When it comes to blow jobs, many women do fantasize about wanting to perform it and are eager to learn how to give the best blow jobs. Even straight men may contemplate or fantasize what it's like to perform fellatio. Also, many straight people of both sexes do eroticize what it might feel like to be the opposite gender having sex. Here are some ideas to explore unconventional blow job fantasies:
Some women get turned on by watching gay porn similar to the fact that many guys enjoy watching two women playing together. Using a strap-on dildo, various gay activities can be role-played.
Explore erotic gender empathy by switching roles. Cross dress if desired and use a good strap-on harness and realistic dildo for some kinky blow job role-play. Get an entirely different perspective on the joys of oral sex.
You could both pretend to be lesbians exploring a strap-on dildo for the first time. One of you would of course have a much more realistic "dildo" to play with.
Attach a dildo with a suction cup base in a position for doggie-style penetration. Have a pretend threesome with her using the hands free dildo and giving you a blow job at the same time. Add a butt plug and more dildos for even more erotic multi-tasking action.
When performing cunnilingus, help her to imagine that her clitoris is a penis and you're giving her a blow job using similar sucking sensations. Take her cues and dirty talk to guide your actions.
Sexy Sucking Scenarios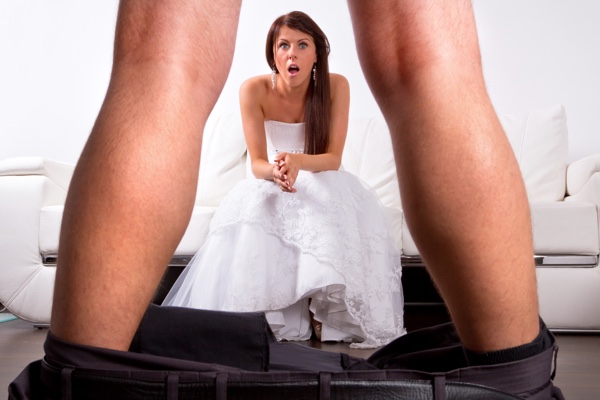 Here is a mixed up list of sex play scenarios to inspire your next session of oral sex play:
You've both made a sex bet on a game but it ends in a tie. You flip a special sex coin with heads winning fellatio for him and tails winning cunnilingus for her.
Dressed as a cheerleader she makes the game more exciting especially during commercials.
In a pool or near a dock dressed as or just pretending to be a mermaid, she surprises a man role-playing as a castaway. Seduced by her hypnotic beauty, he's about to find out that she loves to eat … semen.
The Evil Queen has a big problem and needs an innocent virgin to sacrifice her purity and take on the monster growing between her legs. The queen turns into a handsome prince in this fairy tale.
She pretends to be a stripper performing a lap dance but gets so turned on by the bulge in his pants she decides to offer him a blow job (for a fee of course).
After exchanging knowing glances, a hot secretary follows you to a private room to give you a quickie blowjob.
A hot female boss calls you into her office and offers you a different kind of bonus on her desk.
She discovers a new blow job technique. Instead of just trying it out on him, she tells him that there's a special surprise waiting for him but he needs to be tied up and blindfolded first. She then tells him her girlfriend from out of town is over and wants to give him a blow job. Apply a new perfume and a quick change of clothing to role-play as another woman providing new oral sensations.
Role-play a vampire scenario that involves Dracula's new bride having to accept his demon seed orally in order to transform. Or she's a vampire feeding on a poor soul sleeping naked and alone.
The president or other powerful politician has a new intern eager to make a good impression.
Female prisoner offers to give the sheriff a blow job through the bars for special treatment.
A Greek sex god statue springs an erection when a lone woman is near. It can't move but grants a special wish to any woman who performs fellatio on it.
Speeding woman negotiates a way to get out of a traffic ticket.
Alien abduction leads to some interesting sex experiments.
Pretend that either or both of you are rock stars or celebrities with back stage access.
Guy pretends to be in a full body cast with only his dick exposed. A very nice nurse helps him scratch an itch. At least his boner isn't broken.
A naughty nun helps a priest get through a long and explicitly detailed sexual confession.
Sexy maid catches a guy masturbating in an all inclusive resort and offers to finish the job.
Role-play different ethnicities or exotic cultures that you find erotic.
Stewardess puts the plane on auto and takes control of the pilot's joy stick.
Director casting for porn stars wants a private blow job demonstration and a few head shots for reference.
Guy visits a peep show and uses a glory hole for an anonymous blow job. Make one using cardboard, plywood or drywall.
Make a close up private porn video with slow motion action. Recreate some of the porn scenes you both find erotic.
Role-play an alternate way to pay for a cab or ride sharing service.
Role-play as a street hooker, call girl or high end escort with a specialty for oral sex.
Pretend you are the stars in the spot light, center stage of a sex show.
Cat woman has some fun with the criminals she catches before sending them to prison.
As you can see, there are lots of different blow job fantasies and sexual role-play ideas to explore. Your best blow job is most likely still to come. So as you learn more tips and techniques on how to give a great blow job, remember that the perfect blowjob comes down to playful practice and lots of it. Use the ideas in this article and start enjoying better blowjobs right now. Start playing the right kind of head games together and keep a head in your relationship.