Imagine calling your sweet heart and saying "This is the office of Doctor Frisky Lovemaker. We're calling to confirm your appointment tonight. The doctor rarely makes house calls so we just want to make sure you'll be ready for your special treatment. Just relax knowing that you'll be in good hands when the doctor comes and you'll feel so much better after."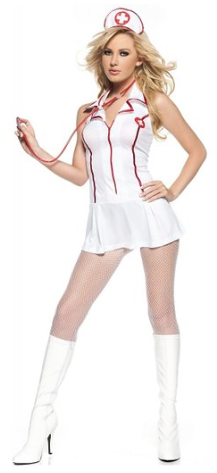 If either you or your partner have a sex fantasy involving a doctor, psychiatrist, dentist or nurse, why not try role playing it and see how much fun you can have together. When you role play as your own Sex Doctor or Naughty Nurse, you'll be able to keep your love life fresh and healthy. Either of you can play the doctor or nurse when performing your professional role.
Sexy & Naughty Nurse Costumes
Dress in an official looking outfit or get a sexy costume for the job. Wear glasses and use a clipboard to look more the part. You can even snap on a pair of latex gloves for effect. Bring along a bag of sex toys and other accessories to use as pretend medical devices. Start off by asking your patient some intimate questions as you feel around their body. Ask them to undress then run a complete set of sensitivity and sexual performance tests. After your probing exam, you'll be able to give your expert diagnosis: More Sex Required! You can then write your patient a sex note detailing exactly what you want them to do. Of course, you'll want a few follow up visits and, with your bed side manner, they're sure to come often.
Sex Prescription Love Notes
You can hand write your sex notes or you can use one of the sex prescription forms we've designed for you. After you print off a few copies of the PDF, all you need to do is check off the special treatment options you desire. There are two different versions on a single page. Just click the image below to download your copy of the sex prescription form. Then, when your partner needs a good dose of sex, fill out your prescription for improving their love life and yours. Use it just like customizable sex coupons.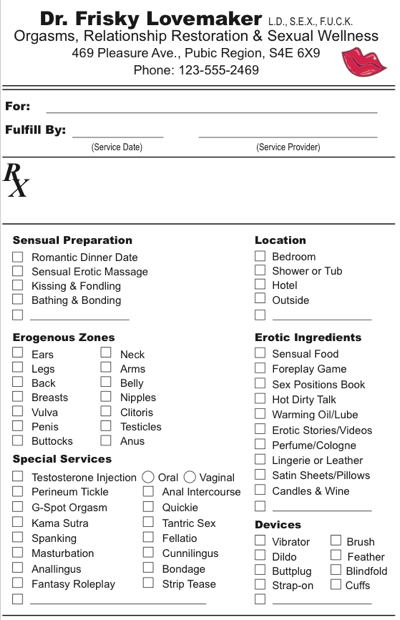 Click to Download SexPrescription.pdf
Playing With Erotic Medical Fantasies
Medical fantasies may be based on erotic feelings or thoughts you had during past experiences or be inspired by sexy characters you've seen in movies or television. Maybe you want to the be patient being examined and cared for, the skillful doctor who knows just what the patient needs or the naughty nurse who knows how to make everything feel better. You may even have a fetish for the type of outfit, medical equipment used (latex gloves, speculum, rectal thermometer, stethoscope, stirrups, etc.) or a particular procedure. There are lots of possible erotic variations in these types of sexy medical scenarios – different characters, settings and situations can all be combined to make your role play games even more thrilling.
More Medical Role-play Ideas
Here are a few sexual role playing ideas to inspire your erotic imagination:
You're a patient getting a free procedure in exchange for being observed by a group of medical students. A video camera is also being used to record the session and give everyone close up details.
You're a sex researcher hunting for proof that the mythical G-Spot exists so you can unlock it's orgasmic potential. After a detailed exam and warm up experiments, use your elegant, specially designed g-spot detector devices to gather evidence of your discover.
You're a patient in a full body cast that has a few convenient openings. It's been months since you've had sex and there's an itch that only your naughty nurse can relieve.
You're a medical student looking for extra credit so you volunteer for a sex research program. The researcher tests, observes and measures your sexual response during masturbation and intercourse using a variety of devices.
You're experiencing sexual dysfunction and have resorted to an unconventional treatment program using exotic electro-stimulation devices and other pain/pleasure instruments.
You're an unethical/unconventional doctor who believes in sexual therapy to cure almost every ailment. Use your authority to order what you want or use other means to administer your special therapy personally.
You're a nurse at a sperm bank with a special incentive to meet your quota. Some clients tend to be shy and need a little assistance producing their deposit but you have ways to get the job done with very satisfying results.
When you're coming up with your own medical themed sexual role play ideas, be sure to discuss some details regarding what motivates each of the characters to end up having sex together and what kinds of erotic play turn you on. Why are your characters coming together in the scene? Is one character seducing the other? Are there barriers like professional ethics or the fear of getting caught that can be played up to create more sexual tension and excitement? What kinds of accessories will be used and how realistic do you want them to be? While you don't need a movie style script, working out the basic details of your sex scene will make it play out much smoother.
More Sexual Role-play Ideas
For more spicy ways to play naughty together, get the 123 Frisky Sexual Fantasies and Erotic Role Play Ideas book and turn your lovemaking into an erotic adventure as you sample all sorts of sexy scenarios. Give each other a great reason to get out your sex toys, put on some sexy costumes and play more together in and out of the bedroom. These sexy role playing games are excellent when you go on a couples sex vacation together.