Posted by Michael Kortekaas
Imagine lying naked beside your lover in bed with flickering candle light making your bodies look warm and sensual. You feel yourself getting excited as you stroke their body and feel them quiver with delight under your finger tips. They close their eyes and enjoy the pleasure of your hot kisses leading down their neck, chest and belly to their thighs. Think about what you would do next.
If you allowed yourself to indulge in this little thought exercise, you just enjoyed a brief sexual fantasy. It may not trigger all your hot buttons but I bet it stirred up a few feelings of desire. Many people don't realize that they fantasize and may even claim they don't. But just planning a romantic evening with the intent to get laid later is fantasizing. Any time you think of having sex or recall a memory of a past sexual encounter that's your mind fantasizing. It's an important part of your sex life and ultimately your relationship that deserves more attention.

Welcome to Frisky Sexual Fantasies. This website is intended for couples who want to explore their fantasies and enhance their sexual creativity by exercising and exploring their erotic imaginations together. There are many reasons for indulging in and sharing your sexual fantasies. My wife and I will explore how you can use your fantasies to help make your sex life more exciting and fulfilling. We also wrote a book for you called:
123 Frisky Sexual Fantasies & Erotic Roleplay Ideas:
Dare to Play Naughty Sexy Scenarios for Couples
Great sex occurs when our mind is completely in synch with what our body is experiencing. But our mind is easily distracted with mundane thoughts of the day or unpleasant aspects of our current setting (noise, clutter, etc.). Whether alone masturbating or having sex with a partner, you can close your eyes and let an exciting fantasy push away all negative thoughts. In just a few moments you can transport yourself into a new sexual situation that is exciting and arousing. There are so many erotic possibilities to enjoy. The variety of wild sexual adventures you can experience is limitless. With sexual fantasies you can be anyone and do anyone any where any time. You can indulge all your deepest darkest desires with no guilt, shame or danger. And best of all, your imagination is free.
A fantasy can be as simple as pretending to be in a different place or making love to a different person. Even thinking how you want to make love with your partner later is fantasizing. Recalling past love making experiences is also fantasizing. It doesn't even have to be very explicit or visual – just recalling a feeling or sensation can get you in the mood for more or make you feel good when you're sad or alone. Fantasies can also be complex and elaborate with entire stories wrapped around various events leading to a sexual climax. They may involve detailed characters, settings and situations combined with various objects or language that have deep emotional associations for you.
Sexual fantasy can even help couples in a monogamous relationship resist the temptation to cheat. Many people end up having an affair to satisfy their own sexual needs that could easily be fulfilled in their relationship. Many times the need is just for more sexual variety which could be addressed with shared or private fantasies. We all need to feel the excitement of doing something new and out of the ordinary.
If you are in a long term relationship, your sex life may be getting a little dull, routine or even boring. Novelty is a crucial ingredient for keeping your passion for life and each other energized. You may already be using fantasies while masturbating or even while having sex with your partner to make it more exciting. Why not try to communicate your desires with your partner and share the excitement. Discussing sex together will encourage you both to try out new things with each other rather than just keeping it private or worse, sharing them with someone else. Sure there are some fears that your partner may reject your ideas or think you're a pervert or slut. Sharing fantasies is a delicate act that takes courage especially in an intimate, caring, stable and comfortable relationship.
You can dramatically enhance, improve and possibly even save your relationship and your sex life by sharing fantasies with your lover. Involving each other in a creative erotic adventure can spice up your desire leading to more passionate and fulfilling sex. It also gives you the opportunity to share what turns you on. Although it is rare that you will both get the same thrill from any one particular fantasy, sharing your fantasies can lead you toward a greater level of trust and empathy for each other. Most people want to please their partner and will usually try to incorporate the other's fantasy into their sex play at some point. You may even be able to find mutually compatible fantasies that you can play with together.
We've created this website to provide inspiration to fuel your fantasies and help you discover ways to enhance your sex life by using them either alone or together with your partner. We will even explore ways you can role-play your sexual fantasies and creatively stimulate your erotic imagination with movies, books, websites and art. We aren't psychologists so we can't give you medical advice of any kind but we hope you'll join us as we explore frisky sexual fantasies for fun and pleasure.
Posted by Michael Kortekaas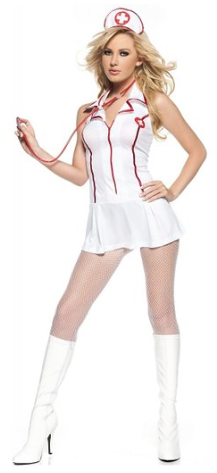 Imagine calling your sweet heart and saying "This is the office of Doctor Frisky Lovemaker. We're calling to confirm your appointment tonight. The doctor rarely makes house calls so we just want to make sure you'll be ready for your special treatment. Just relax knowing that you'll be in good hands when the doctor comes and you'll feel so much better after."
If either you or your partner have a sex fantasy involving a doctor, psychiatrist, dentist or nurse, why not try role playing it and see how much fun you can have together. When you role play as your own Sex Doctor or Naughty Nurse, you'll be able to keep your love life fresh and healthy. Either of you can play the doctor or nurse when performing your professional role.
Dress in an official looking outfit or get a sexy costume for the job. Wear glasses and use a clipboard to look more the part. You can even snap on a pair of latex gloves for effect. Bring along a bag of sex toys and other accessories to use as pretend medical devices. Start off by asking your patient some intimate questions as you feel around their body. Ask them to undress then run a complete set of sensitivity and sexual performance tests. After your probing exam, you'll be able to give your expert diagnosis: More Sex Required! You can then write your patient a sex note detailing exactly what you want them to do. Of course, you'll want a few follow up visits and, with your bed side manner, they're sure to come often.
You can hand write your sex notes or you can use one of the sex prescription forms we've designed for you. After you print off a few copies of the PDF, all you need to do is check off the special treatment options you desire. There are two different versions on a single page. Just click the image below to download your copy of the sex prescription form. Then, when your partner needs a good dose of sex, fill out your prescription for improving their love life and yours. Use it just like customizable sex coupons.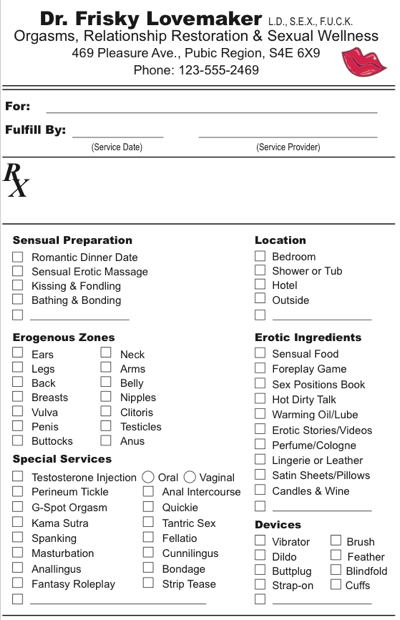 Click to Download SexPrescription.pdf
Medical fantasies may be based on erotic feelings or thoughts you had during past experiences or be inspired by sexy characters you've seen in movies or television. Maybe you want to the be patient being examined and cared for, the skillful doctor who knows just what the patient needs or the naughty nurse who knows how to make everything feel better. You may even have a fetish for the type of outfit, medical equipment used (latex gloves, speculum, rectal thermometer, stethoscope, stirrups, etc.) or a particular procedure. There are lots of possible erotic variations in these types of sexy medical scenarios – different characters, settings and situations can all be combined to make your role play games even more thrilling.
Here are a few sexual role playing ideas to inspire your erotic imagination:
You're a patient getting a free procedure in exchange for being observed by a group of medical students. A video camera is also being used to record the session and give everyone close up details.
You're a sex researcher hunting for proof that the mythical G-Spot exists so you can unlock it's orgasmic potential. After a detailed exam and warm up experiments, use your elegant, specially designed g-spot detector devices to gather evidence of your discover.
You're a patient in a full body cast that has a few convenient openings. It's been months since you've had sex and there's an itch that only your naughty nurse can relieve.
You're a medical student looking for extra credit so you volunteer for a sex research program. The researcher tests, observes and measures your sexual response during masturbation and intercourse using a variety of devices.
You're experiencing sexual dysfunction and have resorted to an unconventional treatment program using exotic electro-stimulation devices and other pain/pleasure instruments.
You're an unethical/unconventional doctor who believes in sexual therapy to cure almost every ailment. Use your authority to order what you want or use other means to administer your special therapy personally.
You're a nurse at a sperm bank with a special incentive to meet your quota. Some clients tend to be shy and need a little assistance producing their deposit but you have ways to get the job done with very satisfying results.
When you're coming up with your own medical themed sexual role play ideas, be sure to discuss some details regarding what motivates each of the characters to end up having sex together and what kinds of erotic play turn you on. Why are your characters coming together in the scene? Is one character seducing the other? Are there barriers like professional ethics or the fear of getting caught that can be played up to create more sexual tension and excitement? What kinds of accessories will be used and how realistic do you want them to be? While you don't need a movie style script, working out the basic details of your sex scene will make it play out much smoother.
For more spicy ways to play naughty together, get the 123 Frisky Sexual Fantasies and Erotic Role Play Ideas book and turn your lovemaking into an erotic adventure as you sample all sorts of sexy scenarios. Give each other a great reason to get out your sex toys, put on some sexy costumes and play more together in and out of the bedroom. These sexy role playing games are excellent when you go on a couples sex vacation together.

Posted by Michael Kortekaas
My wife and I just published our third book titled 123 Frisky Sexual Fantasies & Erotic Roleplay Ideas: Dare to Play Naughty Sexy Scenarios for Couples
It's available for the Kindle and as a paperback from Amazon. Please check it out and, if you do decide to get a copy, we would really appreciate a great review and a five star rating. You're bound to find many creative new ways to spice up your adult play and make your sex life even more fun.
This book is intended for couples looking for more in their relationship without going to other people to fulfill their sexual needs. By exploring each of the steamy scenarios with your partner, you get to experience pretend affairs and play dirty together without cheating. You get to satisfy your craving for new and exciting sexual experiences while deepening your emotional connection at the same time. With shared sexual fantasies, dirty talk and erotic roleplay, you can be anyone and do anyone any where any time. You can indulge all your deepest darkest desires together with no fear, guilt or shame.
Each erotic scenario in the book sets the stage for a deliciously hot and passionate evening of adult play. Use them to inspire your erotic imagination as you lead each other through a variety of wild, lust filled adventures for two. In just a few moments, you can magically transport each other into the embrace of a thrilling new sexual encounter that is exciting and arousing. Surprise and delight each other as you creatively stimulate both your minds and bodies to higher levels of ecstasy.
There are multiple ways to enhance your intimate play with these erotic story ideas besides acting them out. Each is written as a sexual roleplay scenario but you can use them to start an intimate conversation, inspire a lust letter, encourage dirty talk or set the theme for a hot session of phone sex. There is a broad range of juicy scenarios to suit all types of fantasies and erotic desires. All the fantasy scenarios provide a plausible reason why the characters are about to have sex together but the ultimate climax to the story and how it plays out is up to you.
To give a sense of what kinds of fantasy story ideas are available in the book, here is a list of sections used to group them:
Cougar Unleashed
Lascivious Loving in the Library
Babysitter Temptations
Horny Hypnotists
Crimes With Passion
Frisky Business
Maids, Masters & Mistresses
Erotic Photography
Staged Sex Scenes
Like a Virgin
Stranger Attraction
Wild Westerns
Tantalizing Times
Fairy Tale Fantasies
Wanton Witches & Wizards
Voracious Vampires
Each of the 123 sizzling erotic scenarios will whet your appetites for each other and stimulate your hunger for even more. Once you've tried them all, you can replay them again and again with different endings. Although dressing up is optional, you'll have a great excuse to get into costume, use your sex toys and try out other kinky accessories too.
So, to heat up your bedroom games and spice up your intimate times together, get the book, pick a fantasy sex scenario and dare your lover to play naughty with you tonight.
We had lots of fun writing these roleplay ideas and hope you'll enjoy them too.
Posted by Michael Kortekaas
If you want to bring some magic into your bedroom games, try roleplaying your sexual fantasies with a witch or warlock theme. There are good and bad witches so you can include a range of erotic ideas to suit any taste. And there are some amazing witch costumes to help get you into character.
Just showing up in the bedroom with a Sexy Witch costume can be very hot and exciting. But if you discuss a few roleplay ideas with your partner ahead of time, you can make your erotic games even more fun. Take the time to plan out a bit of a story line or adapt one from a movie or book you both enjoyed. You can even get some sexy accessories or props and setup a scene to further enhance the mood such as:
Eerie background music or sound effects
Selection of magic wands (glass dildo, vibrators, butt plugs, riding crop)
Bubbly potion or magic elixir (champagne, wine, herbal enhancer)
Anointing substances (flavored oils, syrup, stimulating lubes, lipstick, body paint)
Red satin sheets with a black comforter
Candles and incense – or do it outside during a full moon
Erotic "torture" devices (feather, nipple clamps, whip, paddle, hot wax)
Exotic witches brew ingredients (grapes, oysters, dark chocolate, liquors, gummy worms, candy spiders, etc.)
Love spells or sexy incantations – leather bound book or aged paper scroll
Of course you'll want to weave in a good reason to have sex after playing with each other for a while. The foreplay can be sweet and sensual or wicked and nasty – good time as any to get the bondage and SM gear out.
Here are a few ideas to help inspire your wicked and wanton adventures with erotic witchcraft:
An innocent young witch is being trained to tap into her sexual energy by a wicked warlock. It is forbidden yet powerful knowledge that tempts her – she is eager to experience all his erotic secrets whatever the out come.
You have lured an innocent male into your haunted lair. He is tied up and struggling but can't resist the building excitement as you defile his purity. You unlock his primal urges and release him from his inhibitions. He is so grateful that he becomes your sexual servant to satisfy all your nasty desires.
You're a good witch promoting sexual healing. You've been asked to help a man improve his potency, virility and lovemaking skills. You train him in the sensual art of pleasuring a woman with hands on, guided instructions. Introduce him to new sexual techniques and special orgasmic remedies.
A man is haunted by dreams of extreme lust – lewd and nasty acts of depravity. You're a good witch asked to help free these sexual demons from his mind. There is only one way – he must act them out and experience the pain and pleasure of these erotic activities. Only in heightened states of orgasm can they be purged from his mind. He must describe the action in detail then allow you to heal him – you'll do whatever it takes.
You're a virgin witch who has just discovered a special spell. Lusting for power, you're willing to sacrifice your virginity to tap into your sexual energy. You conjure up a demon lover (devil, vampire, werewolf) to ravish you and fulfill the ritual. The beast is insatiable as it takes you again and again. The ecstasy you experience is worth the price.
It's been foretold that a new Queen of Darkness will be conceived tonight during a full moon and exactly at the stroke of midnight. You have selected a man carefully and have him prepared for a supernatural conception. Timing is crucial and if he fails to cum in side you at the designated time there will be hell to pay.
A headmaster of a boarding school finds one of the girls practicing her magic dressed as a dark witch. She must be punished but something isn't right. Did she plan this on purpose? Is he being used for her dark pleasure?
Being a naughty little Wicked Witch can be very erotic. When you get into character you may find yourself doing things your secretly desired but were afraid to try. Dress up as a sexy witch and see what kind of magic you can bring to your bedroom games.
Wicked Temptations has a great collection of sexy costumes to choose from. Order a few for Halloween and use them later to role play a few sexual fantasies.
Posted by Michael Kortekaas
Dracula and all the creepy vampire variations have haunted and fascinated our imaginations for ages. The hypnotic power to seduce others with elegant charm and sophistication inspires our own desire for control and submission. We want to explore our secret fantasies and forbidden dreams – to experience that dark force that makes us do wild and wicked things to satisfy those urges.
Just imagine having the ability to make others submit to your will and satisfy your needs. To have the power to manipulate their thoughts and feelings so they crave your touch, your kiss, your bite … your love. They submit to your hunger and lust as they get overwhelmed by your persuasive passion.
Or be the helpless victim as your vampire lover takes possession of your mind and body. It knows your inner most secret desires and breaks down your inhibitions … you're powerless to resist its deviant and lascivious intentions. You beg for them to take you completely – to experience ultimate ecstasy as you submit to your own hunger.
Either way, roleplaying a vampire scenario can add extra excitement to your adult fun. Discuss some ideas with your partner to see what role they would like to play. Adapt a scene from one of your favorite movies or books or make up your own. You can make the story line eerie and scary or turn it into a sexy spoof. Of course you'll want to weave sex into the mix – no actual blood sucking in these bedroom games. There are many other parts of your bodies that can be licked and sucked instead.
Here are a few ideas to inspire your own erotic horror show ideas:
The innocent looking white lingerie doesn't fool you – you know she's turned into one of them. She's tied to the bed and there's only one way to save her. You need to give her an orgasm while penetrating her with your man stake. But if she makes you cum first, you're doomed because it will complete her transformation – her powers will be energized. So get out your holy lube and glass dildo. Drive her into a frenzy of animal lust before you venture in to finish the job.
Your master appears before you. You drop to your knees to await his command. Tonight he has promised to transform you into his immortal bride. He will nourish himself on your female essence before allowing you to suck on him. Taunting you with his mighty scepter, you must prove your worthiness before he allows you to swallow his demon elixir.
You've been hunting the Queen of Darkness in her lair but night has fallen and you stumbled into her trap. Under her control, you are bound and displayed for her sadistic pleasure. Hot flashes of her wicked intentions flicker through your mind – fear mixes with excitement as you watch her approach. You're now her play thing. But when she's finished playing, will she suck and drain you until you collapse or make you service her until she's satiated?
Sleeping comfortably you suddenly become aware you're having the most erotic dream. You can't open your eyes but you sense you're not alone. Images of hot sex and screams of ecstasy distract you. It feels like someone is stroking and licking you. You're about to orgasm – do you lay back and enjoy the sensation or fight to wake up?
All you really need is a set of fake fangs and a wicked imagination to enjoy a night of erotic fun. But a good vampire costume and some sexy accessories or props can enhance the scene. Add to the mood with candles and eerie background music or sound effects. You can even include some red wine as fake blood – helps get you into character too.
The Suck! Me erotic vampire themed sex game for couples is now available for the iPad. For more details about this adult board game, see the Sexy Vampire Game Overview. Download it today and give yourselves even more reason to lick and suck on each other.

We fear and covet our dark side especially in our fantasies. But in our minds, we have the power to pursue what we truly want even if it is a little naughty, mischievous or down right nasty. Add a bit of bite to your bedroom games – roleplay a sexy vampire and willing victim tonight. Experience the erotic thrill of being predator or prey.

Posted by Michael Kortekaas

Virginity is a popular theme in many sexual fantasies for both men and women. The mystique associated with taking someone's virginity can be very intense and emotional. You may have been taught to "save it" for that special person and make the moment extra special. The thought of being your partner's first lover can be exciting and nerve racking at the same time. You can recapture the thrill of first time sex and even rewrite your sexual history if you desire. One or both of you can roleplay as virgins in many different ways to spice up your bedroom games.
Virginity is often associated with someone young and innocent but it can also be about someone who is sexually curious, seductive or naughty. A woman's virginity is highly valued in many cultures today as it was throughout history – a prize to be rewarded, taken or even sacrificed and which must be guarded carefully. But even male virginity is often prized by women. What ever your beliefs, you can recreate your first time again, pretend you are a virgin with your current partner or even enjoy an erotic "deflowering" fantasy together. Your roleplay games can be as simple as pretending you are shy and innocent or an elaborately planned scene involving props and costumes. (Wicked Temptations has a great collection for your roleplay games)
To inspire your own virgin roleplay games, here are some ideas to spice up your sex play. There are links to various costumes and accessories that will enhance your virgin fantasy and better enable you to get into character.
Wedding Night Bliss: even if you are already married or living together, you can always recreate the magical feeling of newly wed virgins. Rent a hotel room or quickly redecorate your bedroom (fresh sheets, flowers, extra throw pillows, etc.). Get a bottle of champagne and dress for the occasion – go all out with a white wedding dress and suit/tuxedo or skip right to some white lingerie and silk boxers. You're both anxious but want to take time to discover each other – make it special and loving. Tentatively touch, kiss and gently caress each other – pretend it's all new as you focus on each luscious sensation. Put on some romantic music and dance sensually as you undress each other slowly. Make love while still wearing some of your wedding clothes. Look deeply into each other's eyes as you tenderly initiate intercourse for the first time.
High School Sweet Hearts: teenagers in love – the first kiss, holding hands, necking, cuddling and fondling made your pulses race but you never went all the way. That is until tonight! While inexperienced, you both are horny, eager and ready for more. But when and where are you going to be able to do it? Are you home alone with your parents expected back in a few hours? Are you on a date making out in the back seat of a car? Have you arranged a secret liaison at night in your room – he has to crawl through your window and keep very quiet so your parents don't hear you? Try out all the different variations on special anniversaries or romantic holidays.
Cheer Leader & Sports Star: You're the sexy cheer leader, he's the school sports star and you've won the championship. You're going off to separate universities so now is as good a time as any to celebrate and lose your virginity at the same time. There's a big house party planned and you've arranged to have one of the bedrooms reserved for just the two of you. Only question is – do you make out in your uniforms or not?
Prom Night: dressed up and dancing close to each other all night is driving you both crazy with anticipation. You've planned this for months – saving yourself for this special occasion. The night is going to be perfect – limo service, a few drinks, the motel room and a late curfew. You both look amazing, you've graduated and there's only one thing to take care of before you truly consider yourself adults.
Taboo Temptress: she's a young nymphet – mischievous, naughty and of course very sexy. She's fully aware of how to use her sexual power to get what she wants even if it means giving up her virginity. Being off limits to older guys makes it even more exciting for her. Maybe she's the baby sitter that seduces the husband while he drives her home or the naughty school girl who wants her grades improved. Or maybe she wants to tempt a guy from a rival girl – to take his virginity before he can share it with her. But what will she want in return for her virgin secrecy?
Sex Education: you're a sexually maturing but innocent younger person looking for an older, more experienced partner to teach you the pleasures of making love. And of course they are more than happy to help you. Maybe an escort or stripper is hired to initiate you into sex as a birthday gift. Or a friend of your older brother or sister comes around to visit but no one else is home so you take advantage of the situation. Your fantasy initiation into sex could be from a neighbor, a stranger, a celebrity, a friend of the family or even a relative.
Mature Virgin: she's prim and proper on the outside but she's ready to burst with sexual desire. You sense her need and see her beauty even though she tries to hide it. She's afraid of her lust but secretly craves all the young men that pass her by. Maybe she's a sexy secretary or a hot librarian that you catch reading the Kama Sutraand offer to show her some of your own sex positions. Or maybe she's an executive focused on her career and you're the kind of assistant that wants to satisfy all her needs. Use your charms to crack her cold exterior and release her inhibitions. Show her how to "let her hair down" and prepare yourself for the most wildly intense sex of your life.
Here is a brief list of other virginity related roleplay games you can play that have a more intense fantasy theme:
Harem girl inspected and taken by the Sultan or King
Pagan initiation into the realm of sexual magic
Black Mass or Aztec Virgin Sacrifice to the Gods
Religious purity is defiled by your evil seduction
Virginity auction at a Victorian brothel – see Fanny Hill
Angel seduced by a demon or falls for a gorgeous mortal
Sex slave auction with special premium on virgins
Virgin offered as the prize for a gladiator contest
Your virginity is offered as a payment or gift
Virgin offered to a mythical beast, demon or alien
Time travel allows you to take your partner's virginity first
(Hi – you don't know me yet but let's have sex)
Although female virginity is conventionally valued more, these roleplay ideas can be adapted for either sex. Work in your own creative "proof of virginity" tests if you wish.
Remember that not all these fantasies are lovey-dovey type scenarios. In these roleplaying games you can be or do anything you want. Explore wild fantasies in your imagination just for the mental thrill – it doesn't mean you want to do it in real life or that you condone it being done to others. These pretend bedroom games are for your sexual pleasure so enjoy yourselves any way you desire.
Wicked Temptations has a great collection of sexy costumes to choose from. Order a few for Halloween and use them later to role play a few sexual fantasies.