Dominance and submission play a part in many sexual fantasies and erotic role-play games for couples. Most people tend to lean towards being more dominant or submissive to various degrees. Playing these roles in the bedroom can make sex play even more thrilling and exciting. Sometimes, people who seem more domineering or subservient in public enjoy the complete opposite role or style of erotic play in the bedroom. Either way, it can be fun to explore your kinky sexual fantasies by roleplaying as a dominatrix with her sex slave. Here is a sample role-play idea to stimulate your erotic imagination. It was inspired using our Random Sex App.
Other resources for more kinky BDSM role-play games, accessories and tips are also included.
Mistress In Black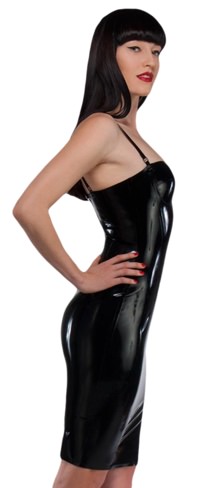 Her shiny black latex dress gleamed in the candle light as she confidently walked over to him. The flogger in her hand made it obvious she was in a playful mood. With a sly grin, he accepted his role as her sex slave and submissively bowed before her.
She's planned a little test for him to see how well and how fast he can follow instructions. She gives him a book with 365 different sex positions
and instructs him to scan it quickly. Standing over him as he flips through the pages, he anticipates a flogging at any moment. And then it comes – Smack – times up.
She allows him to caress her latex clad body – so smooth to the touch. He peels her outfit off slowly at first as he kisses her exposed flesh softly. She gets more excited and allows him the liberty to kiss her more passionately. Fully undressed, she's hot with desire but it's time for his test.
She sets a timer. He's only got 5 minutes to impress her. If he's good and doesn't cum, she'll reward him with a special treat. If he fails …
The task: follow her instructions and get into as many sex positions from the book as possible before the timer goes off. She's already memorized the positions and their names so hopefully he's a quick study. He's hard and ready – go.
Sensual Treat is His Juicy Reward
Well, she's satisfied that he learned enough for tonight and deserves his treat (hers too of course). But he's too excited so she needs to calm him down a bit. She turns on some soft, slow music and slithers against his naked body. Slowly they both sway to the music while tenderly kissing and caressing.
When the song is over she leads him to the bed. She lays down and parts her legs. He knows what she wants. Lick by hot lick, he laps at her clit as she moans with pleasure. He fingers her G-spot just right and she gushes in orgasmic ecstasy.
Quivering Climax
Still quivering, she wants his cock inside her. Agonizingly slow at first, he enters her as she spreads her legs wide. When he's fully inside her, she wraps her legs around his hips and grinds against him. Rubbing against her G-spot, his hardness is getting her primed for another orgasm. She puts her legs on his shoulder and gives him permission to thrust hard and fast. As she convulses in orgasm, he comes in an explosive eruption of hot liquid tribute to his Mistress.
How to be a Dominatrix
Taking on the role of a dominatrix is not as easy as it seems. Putting on the outfit is empowering and it can definitely help you get into character for your role. It can actually be just as hard being a good sex slave too. The sex scenario above is actually fairly tame but the power and emotional dynamics can be extremely intense. There's a lot more kinky sex play possibilities to explore. Here are a few books on the subject that you'll find very interesting:

The Mistress Manual: The Good Girl's Guide to Female Dominance
The Hesitant Mistress: A Guide to Claiming Your Feminine Power
SM 101: A Realistic Introduction
Different Loving: The World of Sexual Dominance and Submission
How to Be Kinkier: More Adventures in Adult Playtime
Beginner Bondage Gear for Sex Slave Role-play Games
Although this Mistress in Black sex scenario didn't include bondage play, a collection of restraints, blindfolds and other BDSM accessories may come in handy for your kinky role-play games. Here is a bed bondage kit that will give you many nights of erotic pleasure exploring your kinky sex fantasies.
Please leave a comment with your kinky sexual role-play ideas involving a dominatrix and submissive sex slave.