Here's a kinky sexual role-play scenario for couples. It's based on a popular fantasy for both men and women. There are a variety of common role-play games that involve having hotel sex, meeting a stranger at a bar or pretending to be a prostitute. I hope you enjoy a new sexual role-play idea that mixes these elements with an erotic twist.
She called him at work, slightly nervous with anticipation. It went to voice mail as she hoped.
"Hi Honey. I've been thinking about you all day. I have a little … ah I mean big … surprise for you. Remember that call girl role playing fantasy we talked about? Well, come to the hotel near your work at 7 and meet me at the bar. I have room 2469 booked for the night."
She giggled mischievously when she hung up the phone and picked up the special toy she bought. She'd been planning this for a while ever since they discussed this particular kinky fantasy – it wasn't exactly the one she alluded to on the phone. He would never suspect the twist she had in mind.
It took an hour of trying on different outfits to get the look she wanted. Her formal business suit seemed to be the right choice. It made her look sexy but also gave her a sense of power and confidence she was going to need. She quickly packed the other accessories she wanted for the night and headed out with a deliciously wicked smile.
He met her at the bar right on time brimming with excitement. Before he could kiss her, she motioned to the stool. Curious, he sat next to her and she ordered a stiff drink for him. He was going to need it. While waiting for the drink, she leaned over to whisper in his ear "You're going to have to wait – I'm in charge for this fantasy." Her hot breath and sexy voice made his cock spring to attention. She slid her hand between his legs and delicately stroked his growing erection through his dress pants. The twinkle in her eyes and devilish smile made him suspicious. "What's with the business suit? After listening to your message I was day dreaming about you in a slutty hooker outfit."
"Well, a sexy outfit does play a part in this fantasy but you'll just have to wait for that. Remember, I'm in charge … I'm not the call girl, I'm the client." She gave him a wink.
Now that made him think. Savouring his double Scotch, he considered the possibilities. Could it be she's hired a girl for both of them together. His threesome and call girl fantasies combined. Wow!
Sliding a key card into his shirt pocket, she told him to finish his drink and come to the room in 15 minutes. She slipped away with a parting comment, "Don't come too fast."
He entered the darkened room and noticed a bundle of money on the desk in front of her. Scented candles burned in red globes placed around the room and she had her special CD of sensual music playing. She held up a silky baby doll
outfit and crotchless panties
.
"Is this the kind of outfit you were thinking of?" He smiled as she coyly bit her bottom lip and walked over to him. She took off his tie and unbuttoned his shirt. She used the silky material in her hands to tickle his nipples. "Three hundred dollars should be enough right?"
He nodded – speechless for the moment. "Good. This size will fit. The rest of your outfit – stockings, garter belt, heels, perfume, robe, wig
, etc. are over on the bed. Get dressed while I get myself ready in the bathroom." She handed him the lingerie and silenced his shocked objections with a kiss. She could tell he was still intrigued enough to stay with her little sex game. He was still going to get laid after all.
She knew he would need some help but left him alone to get used to the idea. Her own transformation didn't require as much effort. Closing and locking the door to the bathroom, she quickly stripped down and inserted the Tantus Feeldoe
call girl costume
fixed up, she poured them both another drink and told him the sexy role-play scenario she had in mind. She was the wealthy client and he was hired to make her feel extra special. She wanted to demonstrate her love making skills and make this beautiful woman have multiple orgasms. Pretending to be a talented escort, he would need to put on a good show just like in the movies he liked to watch. She wanted to hear a believable female orgasm.
He nodded agreement with visions of wet lesbian love dancing in his head. With that she undid her robe and let it fall to the floor. His expression was priceless as he scanned over her almost naked body.
She would do her part with a good male style performance.
It was time for action. Even though she was role playing a man, she still wanted his tender touch all over her body. He could keep the lesbian fantasy in his head if he wanted but she was still going to have her way with him/her. She gave the dildo a squeeze with her love muscle making the tip twitch to let him know she was ready.
I'll leave the juicy details to your imagination so you can create your own fantasy ending in reality. We would love to hear about how your erotic roleplay games worked out.
High Quality, Comfortable Strap-On Harness
Strap-ons aren't just for lesbian couples to play with. Male-female couples can easily add some kinky gender play to their erotic role-play games. For an introduction to pegging play, see The Adventurous Couple's Guide to Strap-On Sex
. You'll want to get a good strap-on harness that can be adjusted to fit snug and comfortable. The SpareParts Hardwear Joque Harness
Tantus Feeldoe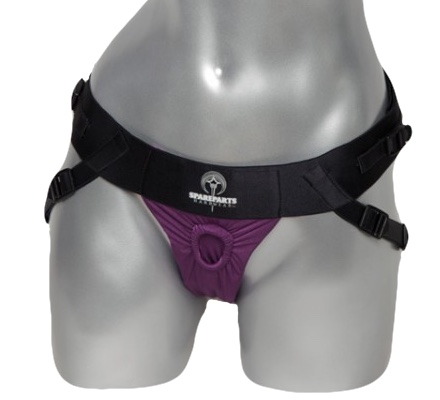 Get 123 Frisky Sexual Fantasies & Erotic Roleplay Ideas:Dare to Play Naughty Sexy Scenarios for Couples
and add more romance and creative sex play to your love life. Make your partner feel extra special and enjoy a more fulfilling relationship by playing erotic roleplaying games together.