Sex has often been associated with something bad, forbidden, taboo or even evil. It's not surprising that sex plays a role in many fictional horror stories involving witches, vampires and demons. Their dark perversions and satanic rituals can be seductive. Even if it's hard to admit, many people secretly have dark sexual fantasies. And, everyone knows that forbidden sex is the most exciting kind. So why not try exploring a few taboo sexual role-play ideas with a touch of erotic horror to enhance the thrill even more.
Here is a sample erotic role-play idea involving a ritual deflowering and a demon lover:
Erotica With Dark Sexual Fantasies
He found her Dark Obsessions
book dog eared with a very erotic passage starred with highlighter. He knew she wanted him to find it. She was very interested in witchcraft and gothic style erotica. Reading it got him aroused with thoughts that surprised him. Explicit images of ritual virgin sacrifice involving sadistic pleasure and very naughty behaviour excited him more than he expected.
Set the Mood for Erotic Roleplay
He started planning the evening. Candles in dark red globes would set the mood – somewhat erie and mysterious. He arranged them along the headboard of the bed almost like an ancient altar. He ripped off the covers and sheets to reveal the black bondage bed cover. The velcro restraints for her wrists and ankles were prepared among other instruments of pleasure. Wicked acts of depravity would be performed here during this deflowering ritual. Once she accepted the invitation that she lusted for, she wasn't going to be released until she was fully transformed.
Erotic Roleplay Costumes
He wanted her dressed appropriately but struggled choosing between virginal white lingerie or a dark, gothic style costume. Deciding to let her choose, he secretly planned a surprise based on her choice. Looking through their closet, he found two sets of lingerie that would suit the occasion. He packaged them up in separate boxes and crafted an invitation card using a fancy old english font. It outlined her role in the fantasy and informed her of the choice she had to make. The warning that her choice of outfits would determine the final act of her initiation was cleverly weaved into the scenario. He even singed the paper to look old and sealed it with a wax stamp
for authenticity. A special magic sex coin
was also included with instructions to bring it to the event. He gave no hint of it's purpose.
Forbidden Ritual Sex Ceremony
He wanted the taboo ceremony to be relatively believable and went to some effort to include details of the fantasy from her book. While she was watching TV he slipped away to finish his preparations. When everything was ready, he presented her with the two packages and the invitation. Then, breathing hotly next to her ear, he whispered a command to be ready and in the bedroom at exactly 11 PM – "it will take one hour to prepare you for the happening".
She was on time dressed in white – her lucky day. Maybe she figured black would mean anal sex but he added a twist to that line of thinking. It still depended on the coin.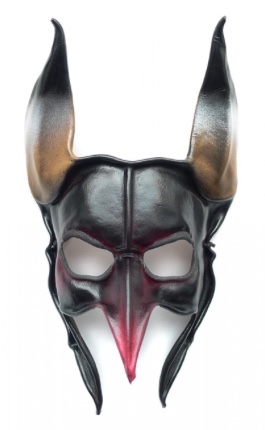 She was a little shocked when she saw him wearing a black cape and demon mask. The red glow of candles and the bondage equipment caught her eye. A mixture of fear and wicked desire made her pulse pound with anticipation.
He asked for her to flip the coin and call a side. Again her lucky day – she chose tails.
Bondage Play – Torment With Erotic Pleasure
The hook he installed in the ceiling above the bed would come in handy. He led her to the bed and attached the wrist cuffs. Then with her standing on the bed, he chained the cuffs to the ceiling. Now for the ankle cuffs to keep her legs spread wide and inviting. Good thing he didn't give her any panties to wear.
First he prepared her flesh by anointing her with special potions (flavoured lube and liquors) he had arranged. With an artist brush, he flicked and swirled the sacred oils around her toes, fingers, ear lobes, lips, navel, nipples, labia and finally her clitoris. The tickling sensation sent shivers up her body and she squirmed helplessly much to his pleasure.
He painted ancient symbols on her skin and around her erogenous zones. The potion tingled as he breathed on it. Then, to her amazement, he kissed, sucked and licked the symbol off with his fiery hot tongue. Each symbol corresponding to a different sensation and all required for the final, explosive climax.
Finally he unhooked her wrists and lowered her to the bed. She was trembling with arousal and eager for more. Attaching the cuffs to the bed instead, she was now on her hands and knees. Exactly the position her coin and clothing selection determined.
He anointed his sceptre with the sacred potion and crawled beneath her. With increasing intensity, he ravished her pleasure portal with his tongue while she hungrily devoured his offering. Lick by hot lick, he brought her closer to the crucial point of ecstasy required for the sacrifice.
Deflowering Ceremony Climax
Chimes sounded a warning – it was almost midnight and time for the sacrifice. She was fully aroused and almost ready … anal sex does take a little extra preparation. But, there was one more step in the procedure that would not be pain free. He showed her the flogger and told her how hot her ass would feel when he was done. She smiled with a naughty grin – she knew she was going to enjoy this. White transformed to black.
Please leave a comment. Let us know how you would creatively use these elements in your erotic role-play games. For more sexual role-play ideas to spice up your bedroom games, get our book shown below: