Dracula and all the creepy vampire variations have haunted and fascinated our imaginations for ages. The hypnotic power to seduce others with elegant charm and sophistication inspires our own desire for control and submission. We want to explore our secret fantasies and forbidden dreams – to experience that dark force that makes us do wild and wicked things to satisfy those urges.
Just imagine having the ability to make others submit to your will and satisfy your needs. To have the power to manipulate their thoughts and feelings so they crave your touch, your kiss, your bite … your love. They submit to your hunger and lust as they get overwhelmed by your persuasive passion.
Submit to Secret Sexual Desires
Or be the helpless victim as your vampire lover takes possession of your mind and body. It knows your inner most secret desires and breaks down your inhibitions … you're powerless to resist its deviant and lascivious intentions. You beg for them to take you completely – to experience ultimate ecstasy as you submit to your own hunger.
Either way, roleplaying a vampire scenario can add extra excitement to your adult fun. Discuss some ideas for vampire love games with your partner to see what role they would like to play. Adapt a scene from one of your favorite movies or books or make up your own. You can make the story line eerie and scary or turn it into a sexy spoof. Of course you'll want to weave sex into the mix – no actual blood sucking in these bedroom games. There are many other parts of your bodies that can be licked and sucked instead.
Role-play Ideas for Your Vampire Love Games
Here are a few ideas to inspire your own erotic horror show ideas:
The innocent looking white lingerie doesn't fool you – you know she's turned into one of them. She's tied to the bed and there's only one way to save her. You need to give her an orgasm while penetrating her with your man stake. But if she makes you cum first, you're doomed because it will complete her transformation – her powers will be energized. So get out your holy lube and glass dildo. Drive her into a frenzy of animal lust before you venture in to finish the job.
Your master appears before you. You drop to your knees to await his command. Tonight he has promised to transform you into his immortal bride. He will nourish himself on your female essence before allowing you to suck on him. Taunting you with his mighty scepter, you must prove your worthiness before he allows you to swallow his demon elixir.
You've been hunting the Queen of Darkness in her lair but night has fallen and you stumbled into her trap. Under her control, you are bound and displayed for her sadistic pleasure. Hot flashes of her wicked intentions flicker through your mind – fear mixes with excitement as you watch her approach. You're now her play thing. But when she's finished playing, will she suck and drain you until you collapse or make you service her until she's satiated?
Sleeping comfortably you suddenly become aware you're having the most erotic dream. You can't open your eyes but you sense you're not alone. Images of hot sex and screams of ecstasy distract you. It feels like someone is stroking and licking you. You're about to orgasm – do you lay back and enjoy the sensation or fight to wake up?
All you really need is a set of fake fangs and a wicked imagination to enjoy a night of erotic fun. But a good vampire costume and some sexy accessories or props can enhance the scene. Add to the mood with candles and eerie background music or sound effects. You can even include some red wine as fake blood – helps get you into character too.
Erotic Horror Sex Game For Vampire Lovers
The Suck! Me erotic vampire themed sex game for couples is now available for the iPad. For more details about this adult board game, see the Sexy Vampire Game Overview. Download it today and give yourselves even more reason to lick and suck on each other.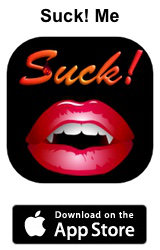 We fear and covet our dark side especially in our fantasies. But in our minds, we have the power to pursue what we truly want even if it is a little naughty, mischievous or down right nasty. Add a bit of bite to your bedroom games – roleplay a sexy vampire and willing victim tonight. Experience the erotic thrill of being predator or prey.